Lapis & Gold is a ground-breaking guide to the techniques,
tools and spirituality of the medieval artist made relevant for contemporary artists.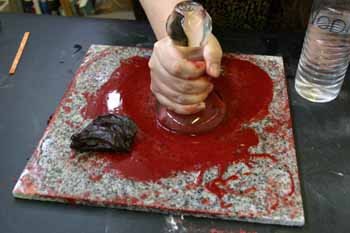 Mulling Dragon's Blood
(a resin from a plant)
On Techniques:
Based on 30 years of research, Sybil Archibald and Karen Gorst have written the definitive guide to manuscript illumination. Each chapter is a rich mine of information including histories, chemical analysis, and easily followed recipes, techniques, and troubleshooting strategies.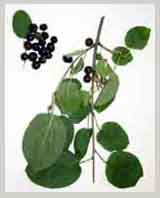 On Spirituality:
Lapis & Gold is a guide for contemporary artists seeking to unlock the spiritual and sacred nature of making art. It contains a wealth of spiritual information including:
- The beliefs of early alchemists
- The meditative and healing nature of making art and artist
supplies
- The ability of art to heal
- The connection between the creativity of artists and the
Divine Artist

Lapis & Gold provides the contemporary artist with a map to Buckthorn Berries
inject spirituality into their work. (Rhamnus Cathartica)
For Contemporary Artists, Conservators & Historians:
Contemporary artists will find the tools in Lapis & Gold to powerfully fulfill their visions. Conservators and art historians will find new information revealed as the processes of medieval artists are unfolded from an artistís perspective and through the application of contemporary analysis techniques.
Table of Contents:
Introduction
The Pigment Almanac (A reference guide to pigments)
Appendixes:
Important Research Centers
List of Published Artist Treatises
Paper Glossary
Medieval Islamic Paper Coatings (Ahars)
The Computer and Calligraphy
Good Working Habits
Using Your Body as a Tool
Starting Supplies
Suppliers List
On Art & Spirituality
Join our Mailing List
(We won't share your information!)