ABOUT THE INK CHAPTER:
Did you ever wonder about the history of ink, something so fundamental to our culture? This chapter has a complete history of ink from ancient Egypt through today, recipes for many types of traditional inks including oak gall, black walnut and lamp black, and techniques for using ink sticks. It also delves into the spirituality of inkmaking as a meditative process both during the medieval period in Europe and the Middle East and today in Asia.
EXCERPT:
In the Middle Ages, a scribe could always be identified by the inky black stains on his or her hands. They are inescapable and also plague or bless contemporary scribes depending on your perspective! Ink is so much a part of our contemporary lives that it is almost like air, we donít notice it at all. This page you are reading is covered with it [unless you are reading this on the internet!], so is your cereal box, and the junk mail overflowing your mailbox. Each of these inks has a particular character, a distinct smell, texture and look. Many different formulations of ink are used today, including some which were popular during the Middles Ages. What is an ink really? How is it made and used? In this chapter we will explore these issues.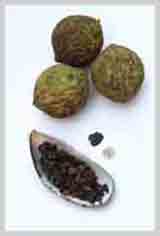 Black Walnut
as seen in Lapis & Gold
A PARTIAL LIST OF INK RECIPES IN THE INK CHAPTER:
Iron Gall (Multiple variations)
Lamp Black (From multiple sources)
Black Walnut (Multiple variations)
Grinding and using ink sticks