ABOUT THE CALLIGRAPHY CHAPTER:
The Calligraphy Chapter in Lapis and Gold is an exciting new take on an ancient and venerable art form. Beginners will find the basics to get started and experts will have the opportunity look at their art from new perspectives. Technique, calligraphy as meditation and letter mysticism in Christianity, Islam and Judaism, and much more are covered.
EXCERPT:
The Spirituality of Calligraphy
The history of calligraphy is rich in spirituality. Some form of spirituality pervades all calligraphic traditions. Spirituality can be present in the act of writing and also in the meanings given to letterforms. Countries with a strong Buddhist influence such as China and Japan have a deep sense of spirituality associated with the act of lettering. Other cultures connected with the religions of the book, Judaism, Islam, and Christianity, have highly developed traditions of letter mysticism which see individual letterforms as vessels for Divine light.
PARTIAL LIST OF TOPICS COVERED:
Analyzing a Manuscript Page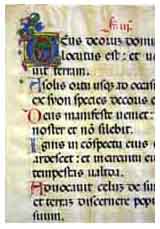 Basic Calligraphy Vocabulary
Carolingian & Rotunda Hands
Choosing Tools such as Pens and Nibs
Methods for Practicing
Spacing
Layout
Using light boxes
Setting up a workspace
Troubleshooting
The Spirituality of Calligraphy
Letter Mysticism in the Jewish, Islamic & Christian Traditions
16th Century Italian Rotunda
as seen in Lapis & Gold