ABOUT THE SUPPORTS CHAPTER: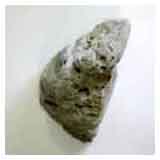 The supports chapter contains the most detailed technical information ever put together on how to use parchment. Couple this with historical information, medieval Islamic paper coating practices, and an extensive troubleshooting section and it becomes clear this book is a "must have" for anyone interested in parchment or paper.
Pumice Stone
as seen in Lapis & Gold
EXCERPT:
Parchment Working Properties: General Characteristics
Parchment is a wonderfully sexy support which is a joy to work with. The skin rises to caress the pen and kiss the brush. The paint rests pleasingly on the surface. This surprising quality is a result of the skin melting slightly with the application of water creating a film of gelatin. This gelatin is not passive. It actually mixes with the paint, becoming an active participant in the painting. Parchment is alive. It is your creative partner. But, it has its pros and cons. On the positive side, parchment gives all the things we just discussed. On the negative side, as with any happy relationship, its boundaries must be respected. Because it is so sensitive to water, wet techniques will cause it to swell and cockle (wrinkle or pucker). This means large areas of color need to be carefully laid down with small dry brushstrokes instead of sweeping wet washes. If you are a daredevil, try applying an extra dark wash to a large area and blotting immediately to dry the surface.
A PARTIAL LIST OF TOPICS COVERED:
The history of parchment, paper & papyrus
Pounces
Preparing parchment
Mounting parchment
The characteristics of the two sides of parchment
What is parchment
Historical usage of parchment
Differences in parchment made from different types of animals
Considerations when purchasing parchment
Medieval Islamic paper sizing (ahar)
The spiritual meaning of supports in artwork